I haven't met anyone who's "bought Melbourne"…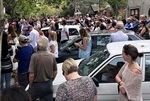 A good way to trip yourself up on property pricing is using the median price as a definitive statement on conditions. Median is, by definition, the middle point within a spectrum and (in real estate terms) is influenced by the number of transactions at values either above or below that point – the more transactions that occur at the lower end (say, first home buyers) the lower the median will appear, and reporting of this can influence commentary on whether that the market is rising or falling; it's great media fodder, but not of any real use to us as practitioners. The data we rely on is far more detailed and breaks down trends on property types which are more readily understandable.
No one "buys Melbourne", or Frankston, or South Yarra, or Geelong or any other suburb… It's much more local than purely the suburb, we buy a house in a street in a suburb.  So when we hear commentary about values in a suburb being up or down, it's overly generalised and as consequence, a little dangerous to use as a benchmark for that area. There are markets within suburbs, and it comes down to knowing where in any particular locality to buy – even in the prestige areas, there are better pockets; and also in lesser regarded spots, there are very keenly sought after streets with prices well outside of common expectations for that suburb; so we need to move away from being caught up in generalisations.
What's happened so far this year…
In the wake of the Royal Commission evidence, and the exposure of some rather over-zealous lending practices, the extent of the banks tightening of lending criteria is quite compelling. This has added to a cooling in the market in most areas and recent analysis from Macquarie Research indicates that since 2015, borrowing capacity has reduced by over 10% for owner occupiers and in excess of 20% for investors. That's a big hit on spending power and it's contributed greatly to a lowering of budgets and buying expectations for the majority of purchasers.
Auction numbers (indeed property listings overall) have declined over past weeks with fewer offerings providing buyers with limited choices; and while this can be written off as the typical winter lull, with colder weather and school holidays affecting numbers, the reports I'm getting from the agents I talk to is that the level of enquiry from prospective vendors is lower than previous years, so this trend looks like continuing.  There are still properties being listed and sold, they're just not all proceeding to auction, or in some cases, even hitting the open market and I'm seeing more opportunities being offered off-market with more sales taking place away from the public spectacle of the auction as an increasing ratio. 
A lot of vendors have come to grips with the change in sentiment and realise they're not going to get the blow-out prices they might have 12 months ago and while realistic property sellers still selling very well, as they've recognised that they then become a buyer in almost identical market conditions, some are still to do so, and they're the ones left waiting for an after-auction negotiation to conclude or in some cases – begin. These can create opportunities for the ready and skilled negotiator but they pass fairly quickly so we need to position ourselves well to take advantage of them when they arise.
What's going to happen for the next few months and beyond?
It looks like the trend of lower listing numbers will continue and when combined with continued low interest rates, high population growth and low unemployment, this will keep some strength in the marketplace. This could easily translate into higher competition for the available stock, taking us from the current climate where buyers are holding back due to what they're reading in the media, into a market where they realise that they need to start making strong decisions again, and this could start a cycle of price rises once more – probably not to the extent that we've seen over the past 3 years or so, but the signs are that it's evolving into something more upbeat once again.
Remember, I'm here for you. 
When you want advice or assistance with your next property move, I'm your advocate – and I'm only a phone call away.